Sometime in high school, I awoke from unsettling dreams to find the world I'd lived in suburbia was not the world of others.
In 2003 I spent six months in prison for civil disobedience while working to close the School of the Americas, converting to Christianity while imprisoned. I started the Food and Faith Network at the Quixote Center, building grassroots alternative food economies in faith institutions that embody the beloved community.
I am currently building a website that will connect farms and churches, mosques, and synagogues to buy fresh vegetables directly and distribute them on a sliding scale to those in need.
I am a totally untrained and unqualified theologian working to build a praxis-informed Christianity that can disrupt our money-driven society with a Christ-formed "economy" of love that trickles up from the base.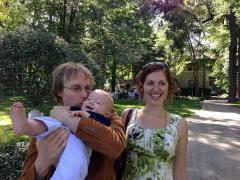 I contribute to the Good Men Project, Geez, Sojourners, the Huffington Post and Red Letter Christians, blogging here.
I'm a poet in process of writing a dystopian science fiction novel.
I love to fix broken machines and to love the broken people who are outside the normal's pale.
Want me to come talk at your church or just drop me a line? Contact me!
If you want to know me better, you can always follow me on twitter.
*"red pill" in this context does not refer to the myopic "men's rights" movement. I am a feminist.